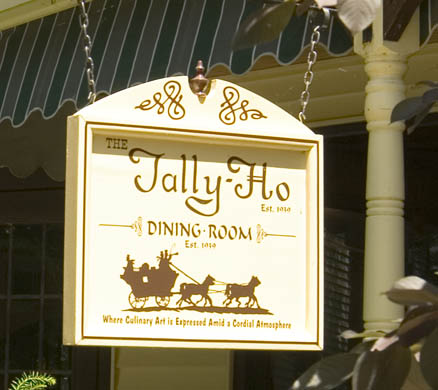 The Tally-Ho Hotel & Restaurant

16 Morris Ave. Right on the Grounds of the Chautauqua Institution and steps from the heart of Bestor Plaza


The Tally-Ho Hotel & Restaurant

The Mardelle Manor
Rental Accommodations

Chautauqua Institution, NY
The Tally-Ho Restaurant:

"Culinary Art Expressed Amid a Cordial Atmosphere"

Eat in Our Lovely Dining Room:

The Tally Ho Restaurant  is open daily throughout the Chautauqua season serving breakfast and dinner.  The hot buffet is available evenings and Sundays at noon with a choice of hot entrees plus farm fresh vegetables grown locally and home baked rolls and desserts from the Tally Ho bake shop.  A full order menu is also available. The menu changes daily and features special evening dinner themes such as German fare night.  Diners may eat at the Tally Ho both inside and outside on the veranda while enjoying the view and the pleasant evening weather.

Or, Order Take Out for a Picnic:

A special dining feature enjoyed by many guests is the "Coach Express Take-out".  Diners select their evening dinner from the many choices in the buffet and place them in microwave containers for enjoyment on their own veranda, in their apartment, or by the lake.  Morning breakfasts are made to order and feature a selection of eggs, a variety of specialty pancakes, fruits, juices, and freshly baked pastries.

Our Restaurant Features:

Open daily for breakfast and dinner

Conveniently located within the Tally-Ho Hotel and just steps from the Mardelle Manor

Extraordinary cuisine made with locally sourced produce, fresh seafood, and carefully selected meats

Themed dinner options which range from German (try our home made spatzel!), Italian, and everything in between.

Cordial Atmosphere and attentive wait staff.

One of the only full-service restaurants located on the grounds

Be sure to catch our famous red velvet cupcakes! They're so good we've been asked to make wedding cakes out of them!

Interested in receiving updates and special discounts from us? Go to our
Contact Page
and subscribe to our mailing list
We maintain your privacy and do not provide your details to third parties